| No. | Name | Days | No. Behind |
| --- | --- | --- | --- |
| 1 | Blaze Runner™ | 1,844 | N/A |
| 1 | GloTe | 1,844 | N/A |
| 1 | Davin V Jones | 1,844 | N/A |
| 4 | Lena Lindström | 1,843 | 1 |
| 4 | Curiosity | 1,843 | 1 |
| 6 | Jett Burns | 1,838 | 6 |
| 7 | Richard | 1,822 | 22 |
| 8 | anovak | 1,801 | 43 |
| 9 | Dimitar Dinchev | 1,732 | 112 |
| 10 | Light Runner | 1,707 | 137 |
| 11 | fryercar76 | 1,679 | 165 |
| 12 | Paul Byron | 1,656 | 188 |
| 13 | Jerry Zheng | 1,625 | 218 |
| 14 | A dayal | 1,605 | 239 |
| 15 | Legolas Greenleaf | 1,294 | 550 |
| Total Days | Average/User |
| --- | --- |
| 25,377 | 1,691.8 |
Exceptions
The * next to a user's name indicates that the profile is currently a child account/private account but is being monitored by a moderator via the coach resources. When that user's streak has ended, they will be taken off the list once the moderator sees the streak has been broken.
Update
Every effort will be made to update the leaderboard weekly. If you would like to assist with keeping this list up-to-date by pointing out a new profile, please leave a message here.
Rules
If you miss 1 day, then you are taken out of the leaderboard. This rule is in place so it is more competitive.
Deleting your profile will cause you to lose your spot.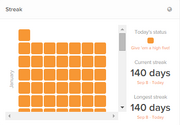 See Also:
Community content is available under
CC-BY-SA
unless otherwise noted.