Contest: Organ-ic Code
Description
One of the top winners of the 100% Organ-ic Code contest of May 2015.
Details
Type
Energy point(s) awarded

0

Status
Retired
Disclosed?
Repeating?
Contest: Organ-ic Code is a Sun badge. To earn it, the user had to have one of the top programs in the Organ-ic Coding Contest of May 2015. You can find this badge here on Khan Academy.
Contest results:
Advanced bracket

More than meets the eye, By taco_launcher
Heart Gizmo, By Δανιαλ Αημαδ
Adaptive Immunity, By Chris Phoenix
The Bloodstream, By jeshurunhorton
Human Body Interactive, By Nick B

Intermediate bracket
Beginner bracket

The Face, By Tariq Jabbar
The Integumentary System, By Katie
The Nervous System, By California Girl
Body fun, By Kepler Teddy
It's All About Sweat, By sloens
Similar Badge(s)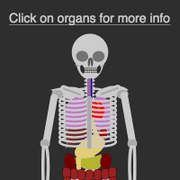 Community content is available under
CC-BY-SA
unless otherwise noted.