Contest: Ecological Interactions
Description
One of the top 5 programs in the ecological interactions Coding contest of 2015.
Details
Type
Energy point(s) awarded

200

Status
Retired
Disclosed?
Repeating?
Contest: Ecological Interactions is a sun badge. To earn it, the user had to have one of the top 5 programs in the Ecological Interactions Contest Of April 2015. You can find this badge here on Khan Academy.
Contest results:
Advanced bracket

Bees vs. Bear, By chopsor
Interacting birds, By SparklyGem
The Amazing Teeth Cleaning Wrasse, By Joshua Wood
Busy buzzy bee, By DY
Bird Flock, By π'd πper

Intermediate bracket
Beginner bracket

Facts about penguins, By Pingu
Wood-pecking woodpecker, By taco_launcher
Put the cardinal in the tree, By HTMLmaster
A bird and its prey, By MeDaBoss
Similar Badge(s)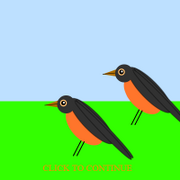 Community content is available under
CC-BY-SA
unless otherwise noted.