Bibliographer
Description
Reference a timestamp when asking a question on a video or program
Details
Type
Energy point(s) awarded

0

Status
Available
Disclosed?
Repeating?
Bibliographer is a Meteorite badge. To earn it, the user has to refer a timestamp when posting a question in any video/program (example, At 3:45, does Sal mean this?). Because of the Privacy Principles, it is impossible for users who are under 13 to ask a question and acquire the badge.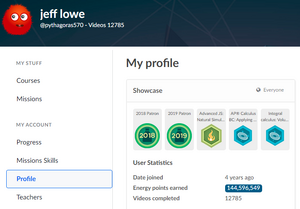 Similar badge(s)
Community content is available under
CC-BY-SA
unless otherwise noted.