The Arithmetic Math Mission is a set of skills on Khan Academy, but got renamed in the Math mission updates of August 2016 to Arithmetic essentials Math Mission. This mission consists of foundational material regarding the structure, definitions, properties and operations on different types of numbers.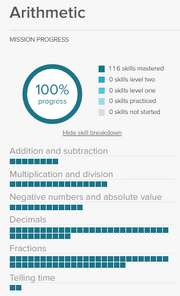 Mission Specifics
Addition and subtraction
Addition within five

Subtraction within five

Addition within 20

Subtraction within 20

Addition within 100

Subtraction within 100
Multiplication and division
Negative numbers and absolute value
Decimals
Fractions
Telling time
Telling time to the nearest minute

Telling time without labels
Users can view other Math Missions here.